About NewsLady: The Book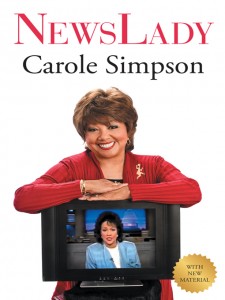 NewsLady is the memoir of a trailblazing African American woman journalist whose life is about "firsts." Carole Simpson was the first woman to broadcast radio news in Chicago, the first African American woman to anchor a local newscast in the same city, the first African American woman national network television correspondent, the first African American woman to anchor a national network newscast and the first woman or minority to moderate a presidential debate.
Hers is a story of survival in a male-dominated profession that placed the highest premium on white males. In this book she recounts how she endured and conquered sex discrimination and racial prejudice to reach the top ranks of her profession. Along the way she covered some of the most important news events over the four decades of her illustrious broadcasting career. Her inspirational story is for all trying to succeed in a corporate environment.